Rewind: HOCO edition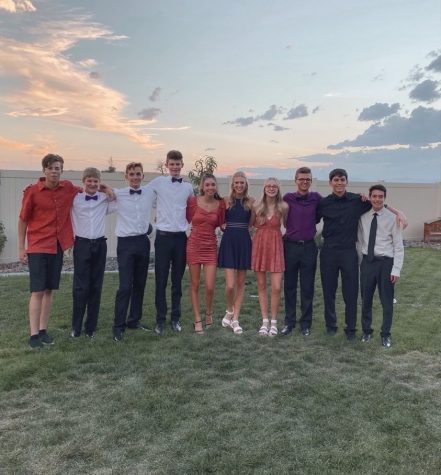 September 2020, what a time to be alive. The peak of the COVID-19 pandemic caused students to be in 'remote learning.' This really meant that maybe students showed up to their google meets and if they did they were most likely lying comfortably in bed scrolling through TikTok. There was no school spirit, no school events, and certainly no homecoming. However, September 2021 is completely different, and thank goodness for that. This year is what Student Council likes to call our 'comeback season´ and school spirit, school events, and homecoming have all made a comeback. This year we had a very normal homecoming week; full of spirit days, assemblies, football, and TikTok remixes played by the DJ. 
Homecoming royalty Chipper Banks said, "My expectations were pretty high considering it was our first homecoming and the week was overall pretty good." Sophomore Kara Wenger agreed with Banks and said, ¨I knew it was going to be a lot of chaos but really fun. Just like a week with a bunch of games." Other people decided to give the school a little leniency when it came to homecoming. Sophomore Paxton Walker said, "My expectations were kinda lowered because of COVID and it just seemed like it came on suddenly and that we hadn't really planned for it." 
  With Walker's concern on the lack of planning for homecoming, it could be nerve-wracking to see how it turns out and if people's expectations are achieved. Wenger said, "It was good. I don't really have something to go off of because it was my first one but it seemed pretty normal to me." Walker couldn't agree more and said," I think it was a lot of fun, and I think it was definitely a success." On the other hand, Banks felt that it was no different than his last dance. "It just felt lackluster. It felt like a middle school dance," said Banks. 
  Although Banks felt that it was like middle school again he couldn't help but find a positive outlook and thought a couple of things were 'pretty cool.' "Finding out that I was the Duke was pretty cool and the mosh pits were pretty cool too," said Banks. Walker was excited to see people having a great time. "My favorite part of the dance was seeing how excited and happy everyone was to be together and be doing normal things that we've done in the past," said Walker. Wenger believed that the fun part was more in the activity side of the week. "I think probably just the football game because I love football and I like hanging out with my friends," said Wenger. 
  Not everything can be as successful as Mountain View's football game victory, and it wouldn't be homecoming week without a couple of bumps in the road. Walker said, "I think we tried. We tried to get people in the school spirit mood. We did really well at the game and stuff but for the school spirit days, there wasn't a ton of people participating."
  Whether or not the spirit days were successful, many people found that the week as a whole was. Walker said, "It wasn't over the top or anything but, given the circumstances of the pandemic and all that, it was definitely well executed." Wenger agreed and said that it was exciting to get ready with her friends for the dance. "The buildup was solid, the dance itself maybe have like a dance competition and announce royalty once more. Just a little more structure and something else to do" said Banks. 
  Despite all of the bumps in the road during homecoming week, I think it's safe to say that it was better than sitting at home during remote learning with no homecoming at all (even if the DJ only played TikTok songs). Looking back, Banks will be able to remember the mosh pits and how he was the Duke. Walker will remember how exciting it was seeing the community happy, and Wenger will remember the feeling of the big homecoming game victory. Those moments are what homecoming week is all about. 
From left to right: Keegan McWatters, TJ Horner, Kael Spry, Bradley Rogers, Atley Brigham, Kara Wenger, Maddie Bellmar, Paxton Walker, Lucas Sanchez, Kole Herrera