Keep on Swingin´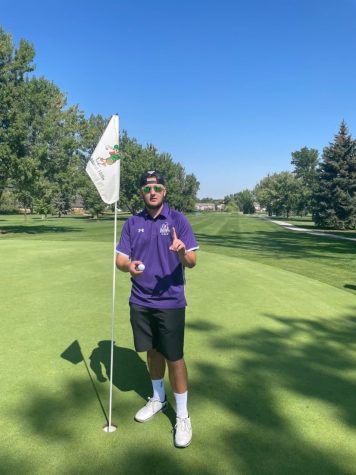 Swinging into the new year has been off to a pleasant start for senior Ryan Horner. With a hole-in-one victory at Highland Hills, Horner has kickstarted the year with a good swing. It's not every day that you see a hole in one and certainly not every day that that certain athlete attends Mountain View. 
  "At first it felt unreal," said Horner, "I didn't expect it to happen." Horner was unable to see the hole so he was shocked to discover that he had made a hole-in-one. "It was one of those, 'it'll never happen to me´ kind of things," said Horner. 
  Horner has played golf for five years now and he has never hit a hole-in-one. "It's definitely not something you expect to happen very often," said Horner, "it's a first for me." Horner is still in disbelief that he was able to accomplish the hole-in-one because it is extremely rare and runs on the mixture of technique and luck. 
  The moment was perhaps even more incredible because Horner explained that he typically plays with six to twelve teams. "The teams are usually five to seven people," said Horner, "we usually have five on varsity and three or four on JV." Being the only person out of all of those people to hit a hole-in-one is an achievement worth recognition. 
  "Every course is a little different," explained Horner, "Highland Hills, where I got a hole-in-one, is usually a harder course just because there are a lot of trees. Most courses are straight, narrow, and easy, others are wooded and harder to play on." Horner accepted the challenge head-on and wouldn't let that interfere with his performance. 
  On top of all of the physical techniques that go into golf, there is also the aspect of mental techniques. "The main technique we practice is staying level-headed throughout the game no matter how your round is going, just staying as level-headed as possible and calm and relaxed," said Horner.
  Weather is also an important factor in the performance of those that play golf because it's not easy to play on a wet course. "When it's raining obviously the grip gets a little slippery, grass gets wet and it affects the ball lie," said Horner. 
  "One big thing for me is that golf is a gentleman's sport," said Horner, "it teaches you a lot more than just the actual sport you learn a lot about life and the person you want to be in the future." Horner also adds that getting to meet new people whenever he competes is a favorite part of playing golf. "It's always fun being with different guys for five hours out on the course," said Horner. 
  Horner spends a lot of his time in the off-season playing with friends and ex-teammates. " I like to get out on the course every chance that I get," said Horner. After roughly his third year of playing, everything started becoming muscle memory and started to come together. 
  "Golf is really an underrated sport," said Horner, "people look over it a lot of the time." With the season wrapped up, Horner feels that his last year playing golf in high school was memorable. To all those that have many more years to come, keep on swingin'.