The Band Comes Marching in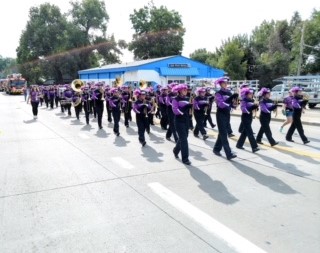 As fall is starting, the marching season is only beginning. Halftime preparations have been in the making for the past four weeks, as well as out-of-school performances. Band camp officially started the season with intense training and team building. The entire band put in a lot of hard work over the summer, especially the incoming freshmen. The excitement continues to rise as the football season gains momentum.  
       The first performance that the band had was at the annual Loveland Corn Roast Parade. According to Megan Peebles, Junior,  "It was fun and everyone was super excited because it kind of marked our first performance of the year– it was very tiring but it was worth it because we got to show the pride our school has.''
        This summer, the band spent two weeks at band camp to prepare their show. They spent their mornings doing cardio and Pilates to get in shape. This helped them become fit for the upcoming season."This was my first year as Drum Major; it was a bit stressful to think that you have the entire band in your hands during band camp rehearsals, but at one point you just have to think to yourself that you need to focus and be positive because a lot of other people are relying on you,''said Keaton Blair, Senior and Drum Major.
        Blair is not the only band member to have an opinion on the upcoming season. Mikayla Moser, Junior, " Running the flute section alongside one of my best friends, Lauren, has been a blast and at first we were a bit nervous to have the entire section in our hands but everything went really well.''
     Lauren Kingrey, Junior, then joined in and stated, "the new season will bring a lot of new traditions that will be extremely fun to share with everyone, and not to mention football games are a blast for everyone, and it's a wonderful time to be able to show our school spirit.''
     Everyone sees the band as a wonderful outlet to show their school spirit. Now that the band has a first home football game under their belts, their enthusiasm will continue to build as the season progresses.